Middle Hungarian Falls
In the heart of Michigan's Keweenaw Peninsula is the Hungarian Falls Nature Area. It's one of the most popular waterfall destinations in the Keweenaw area, attracting locals, college students and tourists alike. The small and somewhat seasonal Dover Creek runs through the area, creating the three main waterfalls with some smaller drops in between. Upper and Middle Hungarian Falls are easily accessible with numerous paths on both sides of the creek. There is a bit of steep path going down the bank at the upper and middle drops if you want to get right down to the creek. The lower falls is the most impressive of all of the three drops with a drop of 50 to 60 feet. However, with no trail, only the most adventurous are willing to scale down the steep and slippery walls of the gorge.
Hungarian Falls is best visited in spring or early in the summer after heavy rainfalls. The Dover Creek has a small watershed and later in the summer the creek can dry up to just a trickle if there hasn't been substantial rainfall. To get to Hungarian Falls, turn West on 6th Street in Hubbell, take the left onto Golf Course Road up the hill. About a half mile up the road is a gated road on the left, park there and walk in.
Upper Hungarian Falls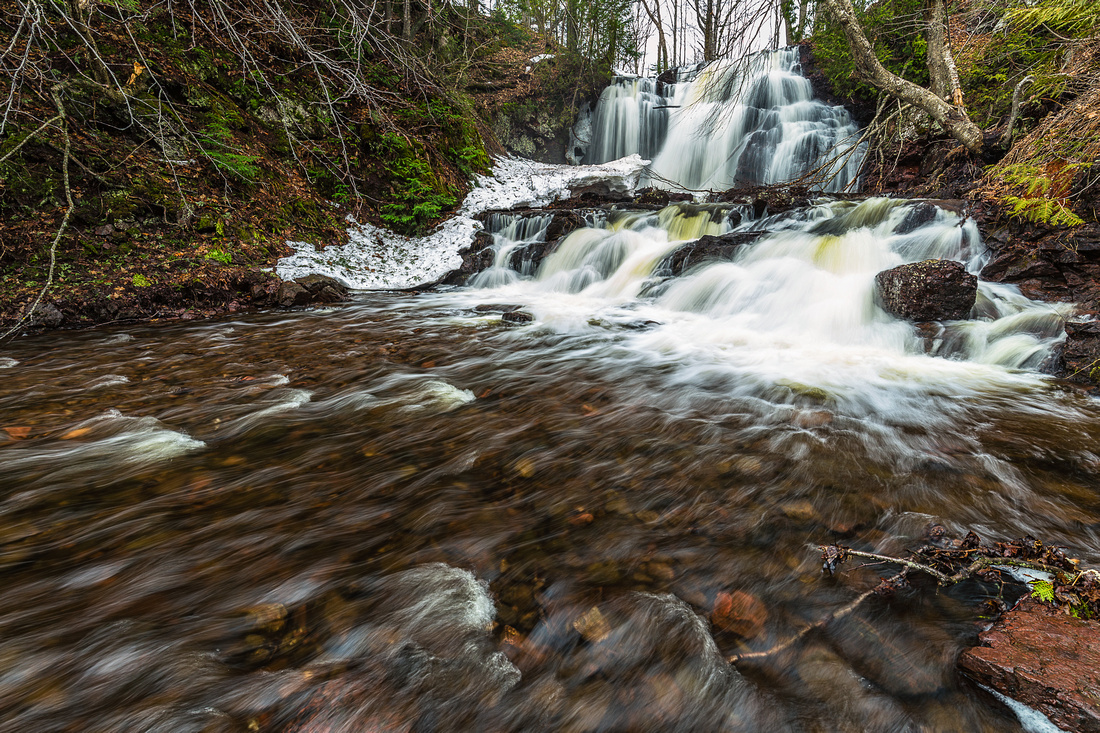 Upper Hungarian Falls in the spring after most of the snow has melted.
Upper Hungarian Falls in early June after a few days of heavy rainfall.
Small Drop
Just above the middle falls there is a small unnamed drop
Middle Hungarian Falls
Middle Hungarian Falls in the Spring
Lower Hungarian Falls
The start of the lower drop. It's a 50 to 60 foot drop from here.